The main philosophy at Gulf Coast K9 is to provide you with the premier dog training in Sarasota, Bradenton, Tampa and surrounding areas. We give you the tools and skills necessary to train and live harmoniously with your dog, no matter what the problems or the goals are. We believe in a balanced form of training and are constantly learning new skills and techniques so that we can better serve you. Our goal is for you to be able to enjoy living life to its fullest with your furry best friend!
Meet Our Dog Trainers
Jillian Vogel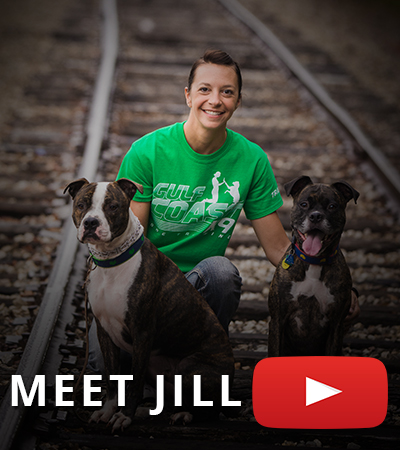 Jillian Vogel, owner of Gulf Coast K9 began training dogs because of her own rescue dog. Her dog Mila developed serious reactivity issues towards other dogs shortly after being adopted. Many trainers and facilities were not equipped to handle Mila's behavior and were not able to help Mila recognize her full potential. Jillian knew the wonderful dog Mila had the potential to be, but didn't know how to get her there. After researching other area dog trainers whose expertise were with dogs exhibiting behavioral issues, Jillian found her only hope. After training her dogs with Tyler Muto and his training staff at K9 Connection in Buffalo, NY she was able to see some incredible results in not only Mila's behavior around other dogs but also in herself. Their training methods and techniques proved to help Mila overcome her issues in real world settings.
Jillian began volunteering and training dogs at the local animal shelter where she could help other dogs reach their full potential and assist them in finding homes. Eventually she began fostering dogs which gave her the opportunity to train a new dog every few months until they were adopted out. Jillian was able to use all of the tools and techniques that she had learned as well as develop new techniques given different situations.
After realizing her passion lies in helping dogs overcome hurdles small and large, she knew that she wanted to help other people and impact their lives the same way hers has been. So, after leaving her position as a high school teacher of 9 years, Jillian began apprenticing at K9 Connection in Buffalo, NY. She was able to work with the same staff that helped Mila, under the direction of Tyler Muto. After completing her apprenticeship she began her transformation into a dog trainer in the same place her journey began. Now, she is able to help people the same way that she had been helped. She enjoys the reward of changing people's lives every day.
Joe Menendez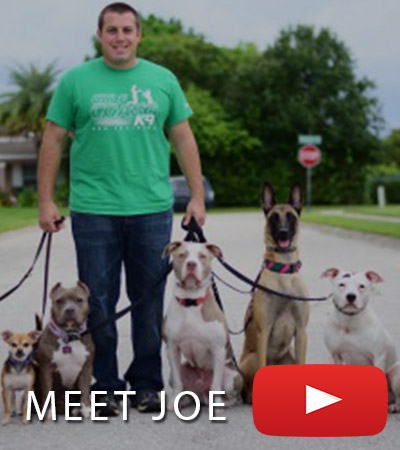 Joe Menendez got his new start when he was a kid by training and showing his personal dogs in obedience and showmanship during his time in 4-H. After graduating with a Bachelor's degree from The Ohio State University in 2009 he decided to renew his passion of working with dogs. Joe has been training professionally for 7 years. He spent his first six years training guide dogs for the visually impaired. During that time he also instructed new handler teams with the dogs he trained as well as a lot of in home follow up work similar to what he currently does with private lessons.
Joe and his wife have been a foster home for over twenty dogs involved in cruelty cases, medical cases and just to give dogs another chance at a good life. They have managed to keep a few along the way as 'foster fails' but they wouldn't have it any other way. One of his foster fails is Mya, a Belgian Malinois who competes in dock diving and has earned a few titles along the way. Mya's personal best jump to date is 26'4″!!
Joe looks forward to working with clients and their dogs to help get them on the same page to live happy fulfilled lives together.